About us - Contact us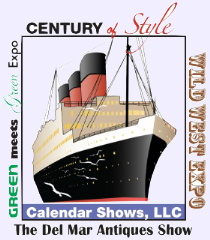 In the good old days, a son followed in his father's footsteps.....a doctor's son became a doctor, a cook's son became a chef, a judge's son became a lawyer. Over the last generation however, this tradition has become the exception rather than the rule with technology running rampant as it does these days. Most children become involved in careers & jobs that didn't even exist 5 or 10 years ago, except possibly in the minds of inventors or science fiction writers.

Therefore, it's rather pleasant to run across someone carrying on a family business serving not only the family, but the community where it does business. Such is the case of Michael & Marilyn Grimes who carry on the tradition of fine antique shows that have been produced by the Grimes family for over 50 years.

"My father & mother were originally involved in a business called "Master Calendar of Events" says Michael, "which served the Inland Empire of San Bernardino, Riverside, and Orange counties. They did a free publication which carried all the events happening during a particular month, and then sold advertising to local businesses. During the early 60's, it became apparent that newspapers were becoming more involved in this area and it was only a matter of time before they would be put out of business by the larger circulation papers. A friend of the family pointed out that trade shows were becoming a big thing back east and maybe with their public relations & advertising backgrounds they could become a success in this newly emerging business promoting such events."

They ran around like crazy, Michael remembers, trying to come up with an idea that hadn't been beat to death by someone else. They finally decided on trying to promote antique shows, and set out to find some dealers with a pioneer spirit to match their own. The first show was held at The Farmers Fairgrounds in Hemet, and consisted of only 13 dealers from the Southern California area, with the dealer traveling the farthest coming all the way from Ojai. The show was a success and the rest is history.

The show averages 175 to 250+ dealers per show, with many coming from out of the area, and even from other states. This means that there is always merchandise that can't be seen at any other time than the show. In fact, even the dealers that are considered 'local' you can't see at any other time because they don't run a shop, they only do shows [sometimes up to 40 or 50 per year].
"It can be a brutal exhausting business for the dealers", Michael says, "considering what their normal week entails. Let's start their week with setup [usually the day before the show opens]. The next three days are spent at the show from opening to closing. Then when they pack-out after closing on Sunday night [usually around midnight], they are off & running to another show the following week. They have to be ready to set up in another town sometimes hundreds of miles away within days. Needless to say, sometime during all this traveling & selling at shows, they still have to find time to shop for replacement merchandise.
Maybe brutal is too kind a word, what do you think?"
For show management, call (727) 423-0187, or use the form below:
Click here to manage your Collectx event discount email contact options.
If you have problems running the discount pass app, you can also email memberContact at collectx.com
Contact Us - The Del Mar Antique Show